CSR events April – July 2018
World Consumers Day – March 15, 2018
Students of II Semester were engaged exchange of ideas on various consumer issues that they are aware of by way of information gathered or by their own experiences.   The batch of students from II Semester D were engaged in active data sourcing on important consumer issues from  the internet portals. Information from JagoGrahakJago and use of Consumer Helpline 1800-11-4000 were discussed and the information was passed on to all the students in the campus during interactions.Students were also were made aware of the Consumer Redressal Forums nearer to their home town.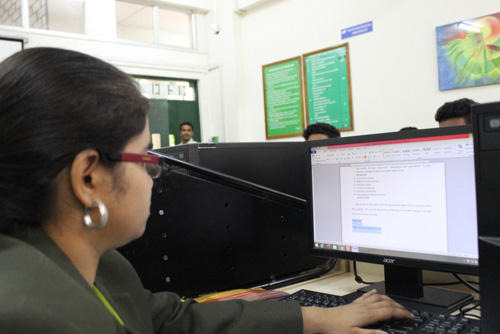 Student engaging in sourcing information on Consumer Issues

Student group from II Semester Working on World Consumers Day
National Vaccination Day – March 16, 2018
National Vaccination Day is observed on March 16 every year. RVIM –CSR organized an awareness programme in the campus to mark the day. Ms.Sheela John,Assistant Professor,HOD of OBG Nursing and Ms.Shasikala,Lecturer,Dept. of Community Health Nursing  from R.V.College of Nursing briefed  the students on the topics relating to benefits  of vaccination during international travel. They also provided the immunization patterns adopted in various countries.
Ms.Sowmya .D.S, Assistant Professor, RVIM led the practioners to all the classrooms for Classroom Awareness Programme. Around 160 students were reached on the day in spreading awareness during National Vaccination Day 2018.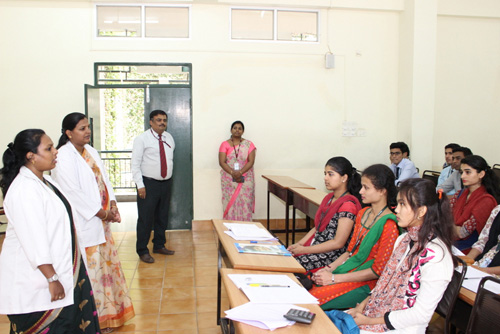 Nursing Faculty from RVCN interacting with students during National Vaccination Day classroom awareness programme
World Earth Day – April 22,2018
World Earth Day 2018 was celebrated at RVIM through social media interactions and influencing the importance of footprint calculator. The online calculator provides the measurement values for misuse and disposal of plastics.Plastic pollution footprint calculator was used to sensitize the students on various issues relating to climate change. Mr.A.Chandran, Assistant Professor& Coordinator, RVIM -CSR registered the campus event in Earth Day Network an international organization for battling pollution on this planet. Social media was used to reach around 900 viewers to enlighten the ill effects of plastic landfills.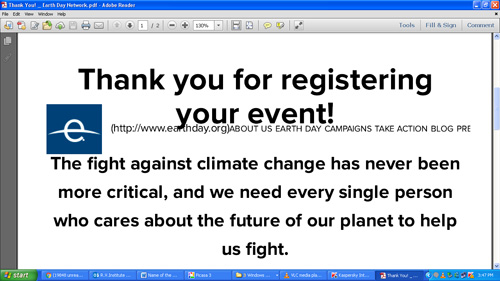 Screen image of Earthday.org for acknowledging RVIM Programme on Climate Change Mitigation Programme to mark Earth Day .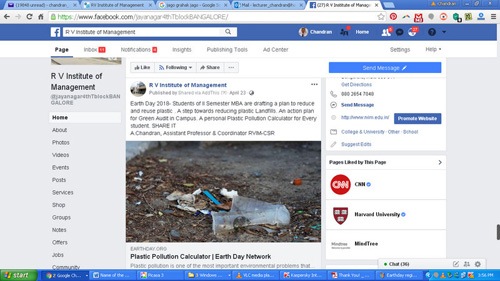 Networking through  Facebook to reach 900 viewers on use of Plastic Pollution Calculator on April 22, 2018 to mark Earth Day.
World Environment Day – June 5,2018
R.V. Institute of Management celebrated World Environment Day on June 5, 2018. Traditional form of artwork on floor is very popular in most of Indian Homes. They are called 'RANGOLI'. A form of floor art in vibrant colours. Students at R.V. Institute of Management grouped into team to create a big floor landscape to mark this year World Environment Day.

Students prepare floor art on World Environment Day 2018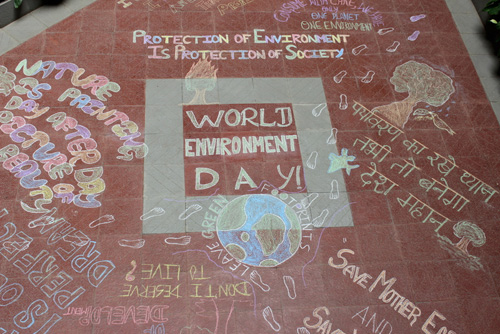 RVIM Students prepared floor art to mark World Environment Day 2018