Workshop on "How to make money in Stock?"
Introduction
The Department of Finance, RVIM conducted a half-day workshop on 30thNovember 2018, on "Workshop on How to Make Money in Stocks?"Participants for the workshop include the III Semester students Section- C (finance students).Ms.Priya Jain, Assistant Professor and Mr.Dileep Assistant Professor, Department of Finance are the in charge for the workshop. Ms. SamyukthaVarman N 3rd Semester student introduced the key speakers i.e. Mr. H K Pavan, Mr. UtkarshJalan and Mr. RajshekarKongarito the audience and Ms. Lakshmi Kashyap3rd Semester student made vote of thanks and context of the workshop.Context of the Workshop:
A company called as MarketSmith India had visited to the institution for conducting a workshop on How to make money in Stocks? for MBA 3RD semester finance students. There were 4 speakers who had shared their valuable knowledge with the students and they also make them learn to how to make profits in stock market by investing in right stock at right time. They discussed few topics like importance of investing, right approach for investment, rules to follow while investing and how to use charts and patterns for buying and selling of stocks. Students were made aware with the power of compounding and scope of wealth creation. They explained that earning in stock market is not so simple, if we enter in the market at wrong time and if we are not aware of macro-economic effect on stock market then we can get stuck. They differentiated between conventional approach and MarketSmith approach to investing. They have thrown light on the quotation of their founder Willian O' Neir that," What seems too high and risky to the majority generally goes higher and what seems low and cheap generally goes lower." They emphasized to use charts for making buying and selling decisions and avoid price earnings ratio for the same as it can vary according to many things. They even mentioned that prices of stocks can even reach to zero. Certain leading and lagging indicators related to stock market were discussed and importance of institutional demand and overall health of the stock was also taught to the students. They made students understand the concept of "DON'T CATCH THE FALLING KNIFE" with various examples and made us understand that buying securities which have falling price is not always goods rather we should buy when prices are going higher.
They discussed that William O' Neil have founded 7 base patterns that pinpoint the best time to buy. They discussed their technology which will help to evaluate various stocks and will lead to higher earnings. i.e.CAN SLIM  technology. C– Current earnings, A– annual earnings, N– New look (product/ services, management, new price highs), S– supply and demand, L– leader or laggard, I- institutional sponsorship, M– market direction. Market direction is considered as most important aspect as if this goes wrong then all other things are of complete waste. The company has come up with the idea of various trends like confirmed uptrend (which is considered best time to invest in the stock), uptrend under pressure, downtrend and rally attempt, these are considered as four phases in market direction for investing. Mantra for successful investor was also shared by the team of MarketSmith. They advised not to hold stock for longer duration and they explained their 8% rule for selling stock. 75% of the stocks generally follow the market trend, if market is up they will also perform well and vice versa situation.
Various types of risk involved in market were also discussed. They explained various diversifiable and un-diversifiable risk and they taught how to make best asset allocation and diversification. They shared a concept of "don't put all your eggs in one basket rather than put your eggs in few baskets that you know well". They advised to limit the investment in 4 to 5 stocks only so that it can be managed carefully.
After this session question and answer round was held. Various queries were asked by the students and solution was given by the team members. They also provided demo of their product and showed how their technology worked. It was a great and wonderful experience to learn evaluation of stocks. Students were motivation to invest in stock market as it will help to overcome inflation effect in the future.
The students of 3rd semester are benefited of this workshop since they are finance specialization the workshop given appropriate road map on fundamental and technical analysis.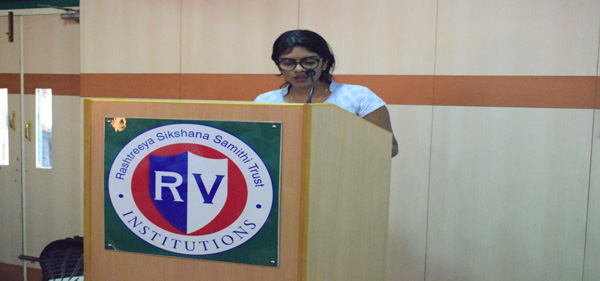 Ms. SamyukthaVarman N 3rd Semester student: Introducing Resource Personsto audience.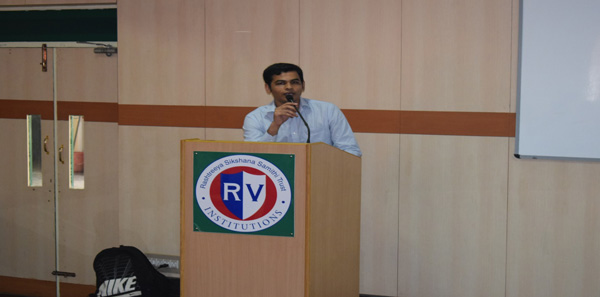 Resource Person: Mr. H K Pavanaddressing the students on basics of Stock Market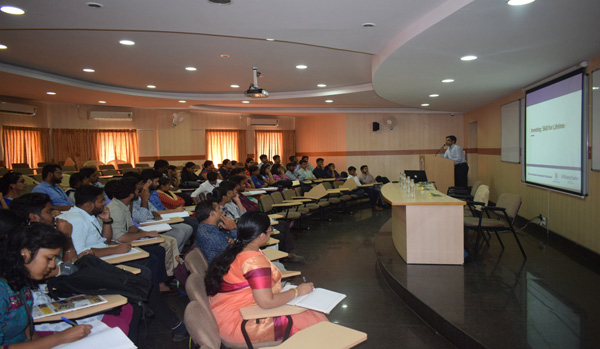 Students actively participated in the workshop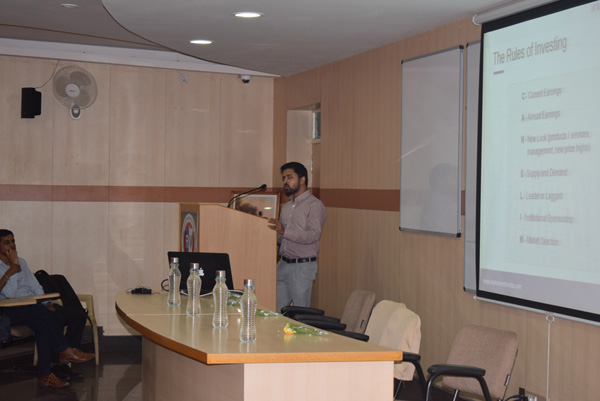 Resource Person: Mr. UtkarshJalanaddressing the students on fundamental analysis
Resource Person: Mr. Mr. RajshekarKongari addressing the students on basics of Technical analysis