POST GRADUATE DIPLOMA IN BUSINESS ANALYTICS (PGDBA)
A Post Graduate Diploma in Business Analytics is a specialized program that provides students with a comprehensive understanding of the analytical techniques, tools and skills required to interpret data and derive insights for business decision-making. This course equips individuals with the skills and knowledge necessary to excel in the field of business analytics, which involves using data-driven insights to make informed business decisions. This program is highly rated in today's data-driven business landscape, where organizations rely on data analysis to make informed choices and optimize their operations. This type of program typically covers a wide range of topics, including statistics, data analysis, data visualization, machine learning, and more. Here's an introduction to what you can expect from such a course:
Course Overview: A Post Graduate Diploma in Business Analytics is a comprehensive program that aims to equip students with a strong foundation in both business and analytics. The course is structured to cover various aspects of data analysis, interpretation, and application to real-world business scenarios. The course introduces individuals to the fundamental concepts, methodologies and technologies used in analyzing business data to generate actionable insights. They will also learn how to leverage data-driven approaches to enhance decision-making, solve complex business problems and create value.
Click the following links for more details:
Framework Pertaining to PGDBA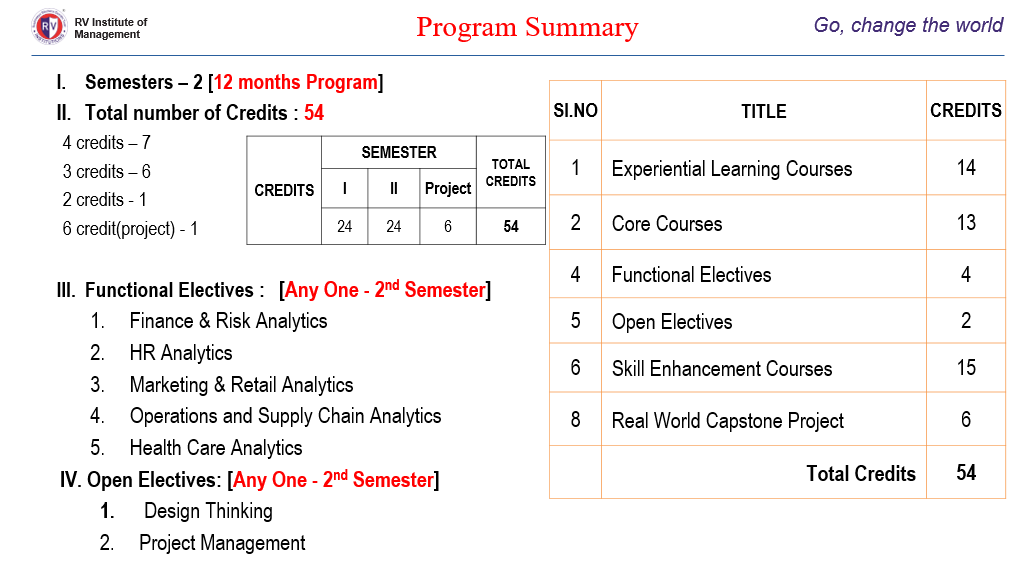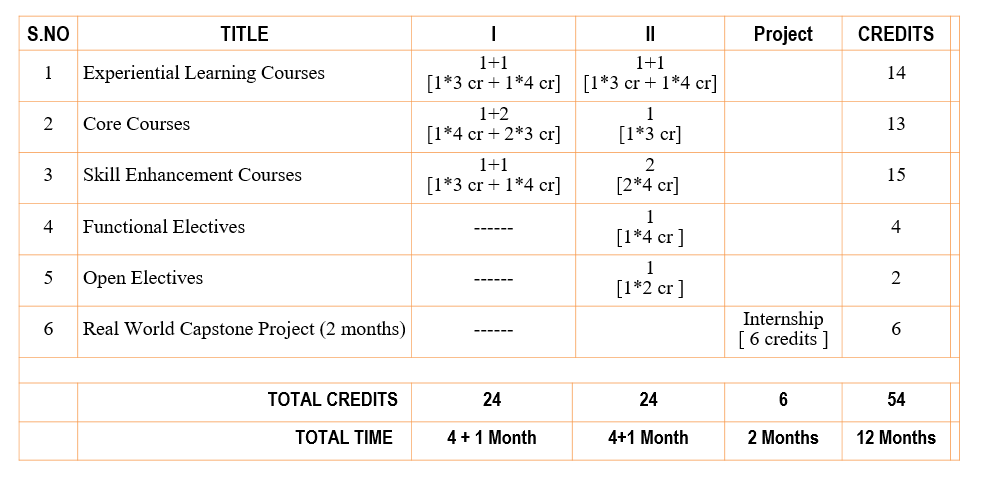 SUBJECT CODE
NAME OF THE COURSE
CREDITS
MAXIMUM MARKS
TOTAL
CIA
SEE

23PGB111

ADVANCED IT SKILLS

03

50

50

100

23PGB112

BUSINESS STATISTICS

04

50

50

100

23PGB113

INTRODUCTION TO BUSINESS ANALYTICS, DATA WAREHOUSING AND DATA MINING

03

50

50

100

23PGB114

DBMS & SQL

03

50

50

100

23PGB115

PREDICTIVE ANALYTICS USING R

04

50

50

100

23PGB116

EMERGING TECHNOLOGIES

03

50

50

100

23PGB117

ECONOMETRICS FOR DECISION MAKING

04

50

50

100

TOTAL
24
350
350
700
SUBJECT CODE
NAME OF THE COURSE
CREDITS
MAXIMUM MARKS
TOTAL
CIA
SEE

23PGB121

MACHINE LEARNING USING PYTHON

04

50

50

100

23PGB122

PRESCRIPTIVE ANALYTICS

04

50

50

100

23PGB123

WEB & SOCIAL MEDIA ANALYTICS

03

50

50

100

23PGB124

BIG DATA ANALYTICS

03

50

50

100

23PGB125

DATA VISUALIZATION & STORYTELLING USING TABLEAU

04

50

50

100

FUNCTIONAL ELECTIVES (Any One)

23PGB221

FINANCE & RISK ANALYTICS

04

50

50

100

23PGB222

HR ANALYTICS

23PGB223

MARKETING & RETAIL ANALYTICS

23PGB224

HEALTH CARE ANALYTICS

23PGB225

OPERATIONS & SUPPLY CHAIN ANALYTICS

OPEN ELECTIVE            (Any One)

23PGB321

DESIGN THINKING

02

50

50

100

23PGB322

PROJECT MANAGEMENT

PROJECT

23PGB421

REAL WORLD CAPSTONE PROJECT

06

50

50

100

TOTAL
24 + 6

350 +

50

350 +

50

700 +

100
SUBJECT CODE
NAME OF THE COURSE
CREDITS
MAXIMUM MARKS
TOTAL
CIA
SEE

23PGB111

ADVANCED IT SKILLS

03

50

50

100

23PGB112

BUSINESS STATISTICS

04

50

50

100

23PGB113

INTRODUCTION TO BUSINESS ANALYTICS, DATA WAREHOUSING AND DATA MINING

03

50

50

100

23PGB114

DBMS & SQL

03

50

50

100

23PGB115

PREDICTIVE ANALYTICS USING R

04

50

50

100

23PGB116

EMERGING TECHNOLOGIES

03

50

50

100

23PGB117

ECONOMETRICS FOR DECISION MAKING

04

50

50

100

TOTAL
24
350
350
700

SUBJECT CODE
NAME OF THE COURSE
CREDITS
MAXIMUM MARKS
TOTAL
CIA
SEE

23PGB121

MACHINE LEARNING USING PYTHON

04

50

50

100

23PGB122

PRESCRIPTIVE ANALYTICS

04

50

50

100

23PGB123

WEB & SOCIAL MEDIA ANALYTICS

03

50

50

100

23PGB124

BIG DATA ANALYTICS

03

50

50

100

23PGB125

DATA VISUALIZATION & STORYTELLING USING TABLEAU

04

50

50

100

FUNCTIONAL ELECTIVES (Any One)

23PGB221

FINANCE & RISK ANALYTICS

04

50

50

100

23PGB222

HR ANALYTICS

23PGB223

MARKETING & RETAIL ANALYTICS

23PGB224

HEALTH CARE ANALYTICS

23PGB225

OPERATIONS & SUPPLY CHAIN ANALYTICS

OPEN ELECTIVE            (Any One)

23PGB321

DESIGN THINKING

02

50

50

100

23PGB322

PROJECT MANAGEMENT

PROJECT

23PGB421

REAL WORLD CAPSTONE PROJECT

06

50

50

100

TOTAL
24 + 6

350 +

50

350 +

50

700 +

100