Alumni Meet Sammilana – 18th Dec 2021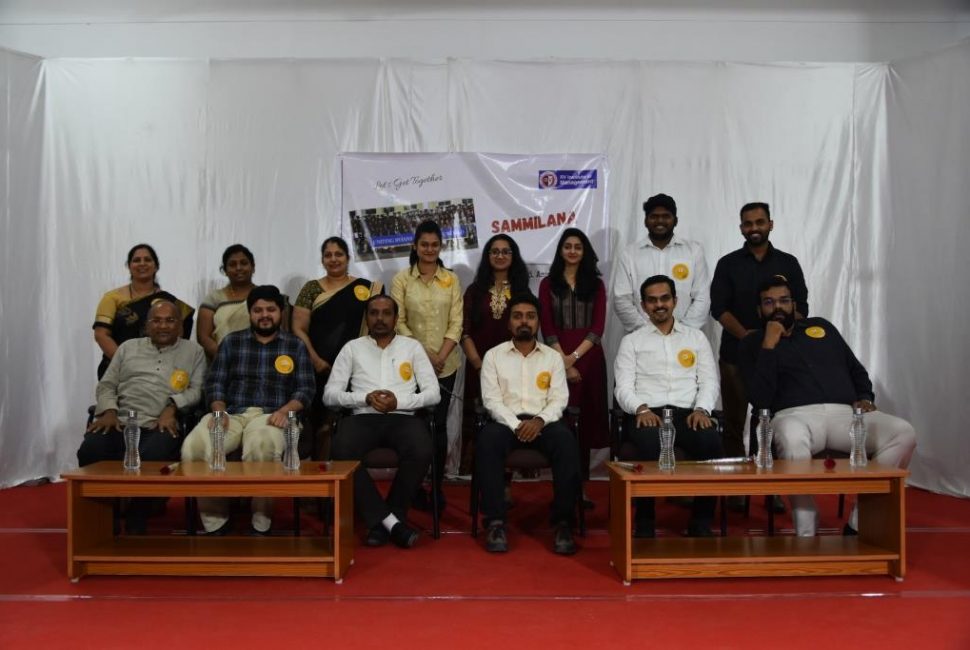 Alumni Meet Sammilana – 18th Dec 2021
Date: 18th Dec 2021

Venue: Quadrangle, RVIM Campus

Time: 4.00PM

Conducted for Alumni of RVIM

Mode: Hybrid

Zoom link:  https://us06web.zoom.us/j/89848955970?pwd=aTUxWEpMWWxMK3FFQjlKcVZoYXNGdz09

Alumni Participant: Offline:29, Online: 20

Total Participants: 100

Event Coordinators: Dr. Narmada Kalgi

Objectives:

·       To introduce the new RVIM Alumni Association Members to all.

·       To have an insight on strengthening alumni association.

·       To give alumni a break from their regular corporate and virtual assignments.

Flow of the Event

Event

Welcome Dance

Ms. Varsha

Invocation

Ms. Sindhu

Lighting Lamp

Alumni and alumni association members

Welcome Address and Introduction to RVIM Alumni Association

Dr.Purushottam Bung, Director, RVIM

Pannel Discussion-Strengthening Alumni Relations to take Institution to Next Level

Dr.Narmada Kalgi, Assistant Professor, RVIM-Moderator of Panel Discussion
Panel members were RVIM Alumni Association Office Bearers

Cultural Events by Final Year students and Alumni

Final year Students and Alumni

Vote of Thanks

Prof. Sowmya D, Assistant Professor, RVIM

Networking and High Tea

Alumni, Students  and Staff of RVIM

Brief Report

RVIM Alumni Association organised Sammilana December-2021, the alumni meet on Saturday, 18th December 2021, The program started with a beautiful welcome dance by Ms.Varsha K followed by a melodious invocation by Ms.Sindhu, final year students of MBA. After lighting the lamp and seeking the blessing the program began with welcoming the gathering by Dr. Purushottam Bung, Director, RVIM, he also introduced all the new members of RVIM Alumni Association to the gathering.

The panel discussion on "Strengthening alumni relations to take institution to next level" started after the welcoming session. The panel was moderated by Dr.Narmada Kalgi, Assistant Professor, RVIM. The panelists were introduced and were asked to present their idea on developing alumni relationships from various stakeholder perspectives. The discussion started by Mr. Supreet (2017-19 batch) who is Vice President of RVIM Alumni Association and is  presently  working with Sprinklr as Success Manger.  He expressed his views on how alumni contributions aid the institute's collaboration with regulatory bodies, other institutes and companies. Mr. Sourabh Kulkarni,(2013-15), Secretary of the Association  presently working as Team Lead in Asset Management vertical, JP Morgan. Put his point about career development though alumni network. One more panelist Mr.Hemanth(2011-13 batch) the Join Secretary of the association  who is working as HR with Greytip Software Pvt. Ltd. spoke about the importance of alumni association for teaching  and non-teaching members of institute. Entrepreneurial development through association was address by Mr.Roshan Ranganth(2011-13 batch), who himself is an entrepreneur and a Treasurer of the association. Mr. Jayanth Hiremath(2010-12 batch)  who is president of association and currently associated with Flipkart as HR, discussed about contribution of every individual towards building strong alumni association. The discussion followed by question and answers and Mr.Hemath even conducted a small activity on wellness for alumni and faculty members.  Dr.Purushottam Bung, concluded the panel discussion by stating that creating strong relationships with alumni is important for strategic growth and advancement of the institute. To strengthen the association in the correct path, all teaching, non-teaching, students, alumni, and management should work together.

Following the panel discussion, students of final year RVIM organised cultural events which included singing band, dance performance, skit. The main attraction of the event was a song by Prof.Pooja, a faculty member of RVIM and  a dance performance by alumnus Mr.Akash K (2018-20 Batch) and song jugalbandi by one more alumnus Mr.Vedh (2017-19 Batch) on stage.

Prof. Sowmy D. S., Assistant Professor, RVIM concluded the program by proposing vote of thanks followed by Networking and High-tea.

Overall the function was well received by all the Alumni, RVIM staff and students. The panel discussion helped in understanding the importance of Alumni Association and cultural events were thoroughly enjoyed by the every participant.

 

Outcomes:

·       The new RVIM Alumni Association Members were introduced to the gathering.

·       The panel discussion helped in understanding the importance of Alumni Association.

·       Alumni, Faculty members and students actively participated in cultural events and networking.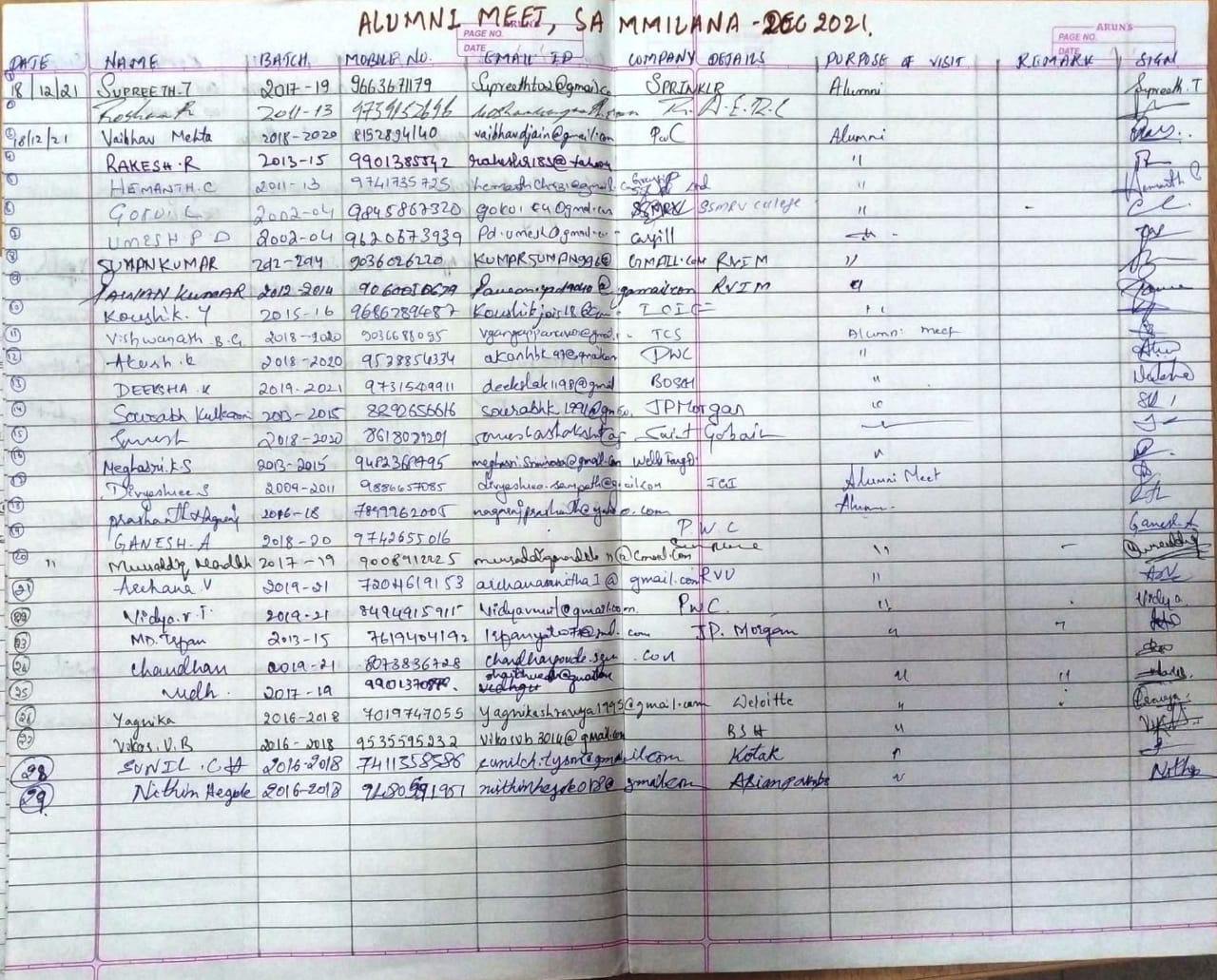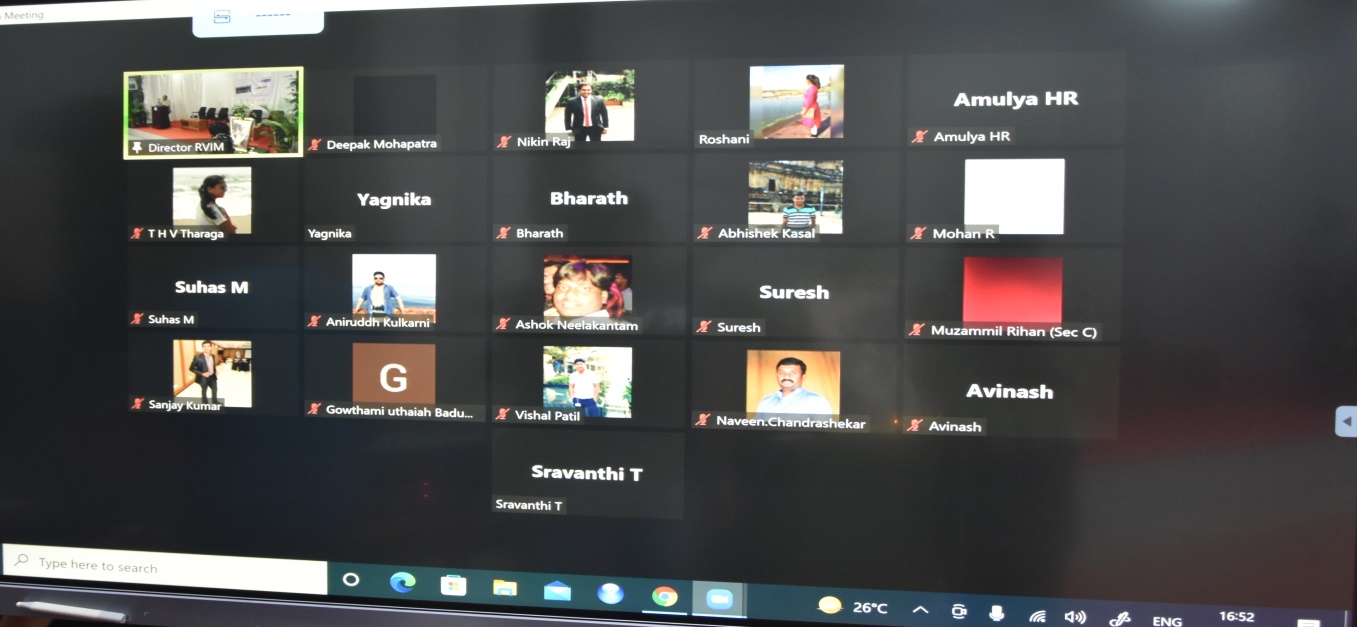 Welcome Dance and Lamp Lighting