Genesis 2022-2024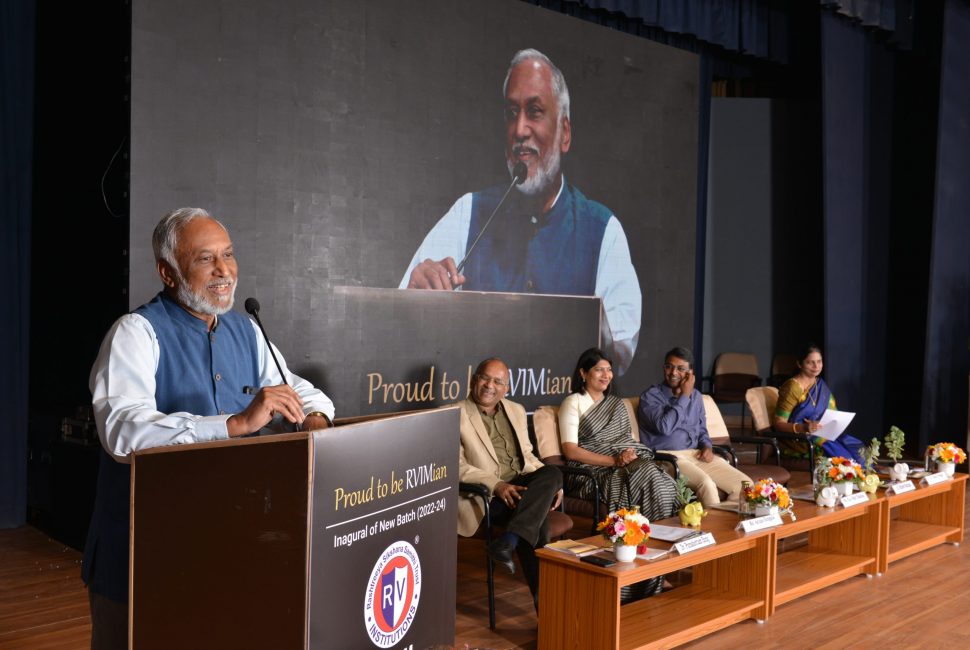 Programme Schedule                     01-02-2023
10.00am – 10.05am
Invocation
10.10am – 10.15am
Welcome Address
Dr. Anupama K Malagi

Professor, RVIM

10.15am – 10.30am
Onboarding of the new batch
Dr. Purushottam Bung,

Director, RVIM

10.30am – 10.50am
  Address by Chief Guest (Academia)
Dr. Mathew Manimala

Former Professor, IIM Bangalore

10.50am – 11.20am
 Address by Chief Guest(Industry)
Ms. Anupa Rongala

Director & CEO, Invensis Technologies, Bengaluru

11.20am – 12.15pm
Introducing the students of new batch & distribution of welcome kit by dignitaries
Prof.Anitha BM D'Silva & Prof.Pooja T

Prof.Ramya S  & Prof. Ankita S

12.15pm – 12.20pm
Releasing the RVIM Journal & News desk
Dignitaries
12.20pm – 12.30pm
Honouring the Academic Achievers in 1st year MBA
Dignitaries
12.30pm – 12.35pm
Administering Pledge
Dr. Asha Iyengar

Principal, DAPM RV Dental College

JP Nagar, Bengaluru

12.35pm -12.40pm
Presidential address
Sri. K A Sujit Chandan

Trustee, RSST & Chairman, Governing Body, RVIM

12.40pm – 12.45pm   
Vote of thanks
Dr Anupama K Malagi,

Professor, RVIM

12.45pm – 1.00pm
Presidential Remarks
  Dr. M P Shyam President, Rashtreeya Sikshana Samithi Trust
NATIONAL ANTHEM
1.00pm – 2 .30 pm
Lunch Break
3:00 pm – 4:00 pm
Parents Teachers Meet followed by Q & A
4.00 pm onwards
High Tea
Inauguration of the new batch 2022-24
GENESIS 2021 was organized by R V Institute of Management for the new batch 2022-24   on 1st February 2023. The event was held at DAPM RV Dental College Auditorium. A total of 180 students along with their parents participated in the event.
The event was graced by eminent personalities as the Chief Guests and Guest of Honour. The Director of RVIM, Dr Purushottam Bung, addressed the students and onboarded them into the RVIM family. Dr Anupama K Malagi, Professor & Academic Co-ordinator, welcomed the gathering.
Mr Ashwin Noronha, COO, Mumbai International Airport, Mumbai
Dr Y S R Murthy, Vice Chancellor, RV University, Bengaluru
The Chief Guests were
Dr. Mathew ManimalaFormer Professor, IIM Bangalore &
Ms. Anupa RongalaDirector & CEO, Invensis Technologies, Bengaluru
The Guests of Honour were-
–  Sri Sujith Chandan K A
Chairman, Governing Body, RVIM & Trustee RSST &
-Dr. Asha Iyengar
Principal, DAPM RV Dental College
JP Nagar, Bengaluru
Sri Sujith Chandan K A delivered the Presidential Address. He appreciated the efforts made by the institution in making the students industry ready. The Vote of Thanks was proposed by Dr Anupama K Malagi ,  Professor, RVIM.
PLEDGE
"On this special day of me joining RVIM family, I take a pledge that;
I Shall /uphold the values of the Institution /and endeavour towards /fulfilment of vision and mission of the Institution.
I shall /uphold the Dignity and Honor of the Institution at all times/ and shall , in thought, words, deeds / adhere to the rules and regulations of the Institution/ and shall contribute towards the progress of our Nation.
Jai Hind