Graduation Day 2018-20 & 2019-21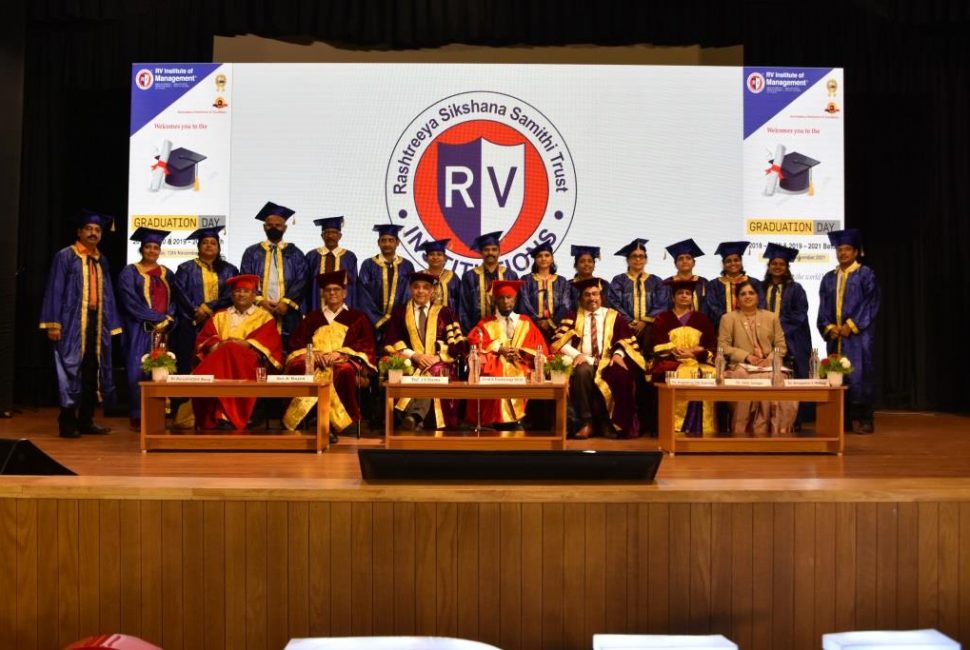 Graduation Day 2018-20 & 2019-21
Programme Schedule                     13-11-2021
3.00 pm – 3.05 pm

Invocation

Ms. Anusha Hegde, Student RVIM

3.05 pm – 3.15 pm

Welcome Address

Dr. Purushottham Bung,

Director, RVIM

3.15 pm – 3.20 pm

Lighting of the lamp

Dignitaries

3.20 pm – 3.25 pm

Setting the Context & Declaring open the

Graduation Day Ceremony

Sri. A Rajan,

Former Country Head, HDFC,

Member, Governing Council, RVIM

3.25 pm – 3.40 pm

 

Graduation Day Address

Prof J R Sharma,

Director, StemVogel

Consultant to BITS PILANI

3.40 pm – 4.25 pm

Distribution of Certificates

for Batch 2018-2020

Dignitaries

4.25 pm – 4.40 pm

Graduation Day Address

Dr. Augustus G S Azariah

HR Leader @ IBM India/South Asia

 &

 Chairman, HR & WEL Expert Committee, BCIC

4.40 pm – 5.25 pm

Distribution of Certificates

for Batch 2019-2021

Dignitaries

5.25 pm – 5.30 pm

Administering the Pledge

Dr. Asha Iyengar, Principal,

DAPM R V Dental College

5.30 pm – 5.40 pm

Presidential Remarks

Dr. M K Panduranga Setty,

President, Rashtreeya Sikshana Samithi Trust

5.40 pm – 5.45 pm

Declaring closure of Graduation Day Ceremony

Sri. A Rajan,

Former Country Head, HDFC,

Member, Governing Council, RVIM Chairman, Governing Council, RVIM

5.45 pm – 5.55 pm

Vote of Thanks

Dr. Anupama K Malagi,

Professor, RVIM
National Anthem
Master of Ceremony: Dr Anupama K Malagi, Professor, RVIM
Graduation Day Report
RVIM has scaled new heights in the last one year in terms of academic achievements of the students & faculty also other activities. Some of the key accomplishments include :
Granted Autonomous status by UGC for 10 years
NAAC Accreditation- From A to A+ ( From 3.01 to 3.38 CGPA)
Ranked one amongst the top 10 B-schools in Bangalore Metro by Business Today
Listed under 2(f) by UGC
"Awarded Gold Medal at the AIMS Convention for the activities organised at RVIM under the National Management Week- 2021
Successfully partnering for the 3rd consecutive year in the Gyanarjan Project- offering free specialized coaching to X, XI, & XII needy students in collaboration with Aditya Birla Group
Received a grant of Rs 50,000/- under Unnat Bharat Abhiyan for adopting 6 villages
Overall placement percentage is above 90% with median CTC of 4.89 lakhs and highest CTC being Rs 12 Lakhs
Added new centres of excellence;
RVIM SetConnect centre for Business Analytics
RVIM Teaching Learning Centre
Institutionalising of the Training Calender to make the students First Day First Hour Industry Ready
Offered numerous Value addition courses beyond University Curriculum including Digital Marketing course, Supply Chain Management, Design Thinking workshop, etc
Partnered with various NGOs to strengthen our Centre for social responsibility
Graduation Day Programme
Graduation Day celebrations were organized by R V Institute of Management for the outgoing students of 2018-20 Batch & 2019-21 Batch  on 13th November 2021. The event was held at DAPM RV Dental College Auditorium , J P Nagar  Bangalore. A total of 353 students graduated.
The event was graced by eminent personalities as the Chief Guests and Guest of Honour
The Director of RVIM, Dr Purushottam Bung, welcomed the gathering.
The Chief Guests were
-Dr. Augustus Azariah, Director, HR Leader @IBM India/ South Asia & Chairman, HR & WEL Expert Committee, BCIC
– Prof J R Sharma , Director Stem Vogel, Bengaluru
The Guests of Honour were-
Sri A Rajan, Former Country Head , HDFC and Member, Governing Body, RVIM.
Dr Asha Iyengar, Principal, DAPM RV Dental College, J P Nagar, Bengaluru
The programme was presided over by  –
Dr M K Panduranga Setty, President, RSST
Dr M K Panduranga Setty, President RSST delivered the Presidential Address. He appreciated the efforts made by the institution in making the students industry ready.
The Vote of Thanks was proposed by Dr Anupama K Malagi ,  Professor, RVIM.
PLEDGE
"WE SHALL / IN THOUGHT, WORD AND DEED / EVER ENDEAVOUR / TO BE SCRUPULOUSLY HONEST / IN THE DISCHARGE OF OUR DUTIES / IN OUR PROFESSION / AND SHALL UPHOLD / THE DIGNITY AND INTEGRITY / OF OUR PROFESSION / AND THE HONOUR / OF OUR INSTITUTION".
 "WE SHALL / UPHOLD AND ADVANCE / SOCIAL ORDER / AND THE WELL-BEING / OF OUR FELLOW MEMBERS / AND SHALL DEVOTE / ALL OUR ENERGY / TO PROMOTE / UNITY, INTEGRITY / AND THE SECULAR IDEAL / OF OUR COUNTRY".
Programme Invitation Card